Where does the trip begin
The address for the launch site and parking area is 780 Fountain St. South in Cambridge, ON. It is 2.4km from the Highway 8 Cambridge exit off of the 401. (Note: Google Maps show our location on the wrong side of the river)
On the full 8KM adventure the trip terminates at River Bluffs Park in the Old Galt section of Cambridge. You'll get out of the river at a small sandy spit marked by a flag. You'll carry your light-weight River Runner and paddle to our trailer (about 100 ft away) where you will receive a prepaid taxi voucher.
How do I get back to my car?
Walk into Old Galt – about 8 minutes from the end of your adventure. We have a taxi pick up point near the Blackwing Cafe Bar for when you've finished exploring lovely Old Galt.
Golden Triangle Taxi is our transportation provider and you can download their app (GTT) or call 519 740-2222
www.goldentriangletaxi.com
Can I walk back to my car?
Of course you can! Directly at the end of your river adventure, a beautifully groomed riverside trail begins. If you do choose to hike back to your car, we'll refund you $5 per person. It really is a great trail. We hike it often.
What is your cancellation policy?
We know that we're at the mercy of the weather. You can cancel anytime for a full refund.
Trips canceled at last minute due to heavy rain, thunderstorms, high winds or high water can be rescheduled at no charge.
We reserve the right to cancel trips if we feel river flows, storm or wind conditions are unsafe.
Do I have to sign a waiver?
All participants must sign a waiver. The waiver can be found here. You can sign the waiver when you arrive at our launch area as long as you're over 18 and have ID showing your age.
The waiver is required by our insurer as well as the municipal authority that owns our launch site. No waiver – no go.
Minors: Anyone under 18 is considered a minor and must have a parent or guardian sign the waiver.
Do you provide dry bags for personal belongings?
Every River Runner comes with a Dry Bag attached. To give you an idea of its size, the picture is the dry bag with a 1 gallon (4L) jug in it. We suggest that if you bring keys and smartphone, you also bring a couple of Ziploc sandwich bags as added protection. We can't accept any responsibility for items you lose in the river.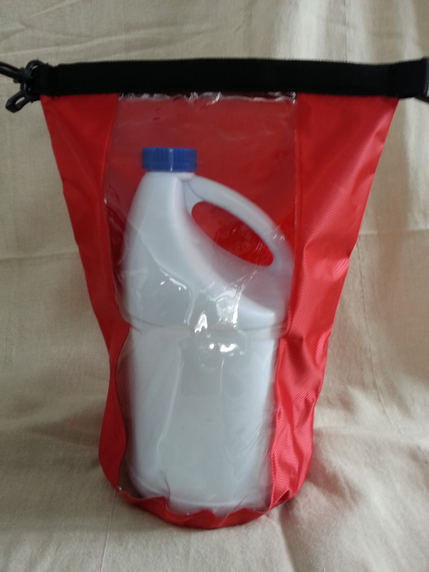 Can I bring my cell phone, wallet, or car keys on the water?
We know how important your phone is to you. Many people stream the trip BUT things also have a way of going into the river, never to be seen again. We provide you with a dry bag that's large enough for these items and most smaller purses but we take absolutely no responsibility for loss or damage.
We suggest that child be at least 5 years of age for tubing.
If a child is under 50 lbs a parent or guardian must supply a child life-vest
Are there weight or physical limits?
Our River Runners are limited to 250 pounds. You also have to be able to get in and out.
Sorry – no (and we have and love dogs). Their nails can puncture the River Runner.
Is alcohol allowed on the river?
Canadian federal law does not allow open alcohol on any type of boat on the water and we enforce that.
Can I dispose of my refuse in the river?
It's against the law to throw litter or glass of any kind into the river.
Will there be any white water on the route?
The Grand is a reasonably wide lazy river. The current will carry you along at 2-3km per hour. There are no large rapids. If you want large rapids you should go to the Ottawa River.
What happens in case of a thunderstorm?
If there's a sudden thunderstorm before the tour begins, we hold the right to cancel or reschedule the trip. Thunderstorms usually pass in 30 minutes.
We reserve the right to cancel the tour depending on weather conditions.
If the tour has been paid and then cancelled because of weather conditions, your refund is 100%.
What if a thunderstorm comes while I'm on the river?
During summertime afternoons, thunderstorms can occur. The odds of being struck by lightning are very low. No one has ever been struck by lightning while tubing with us, but you should be cautious. To limit the possibility of being struck, we recommend the following. First, get out of the water and onto the shore. Once on land don't stand next to any large trees. Find some smaller trees or sit in a clearing. You can use your River Runner as a shelter to sit under. The storm will pass. Then you can finish your tubing trip.
Do I have to be able to swim?
Since the Grand is relatively shallow, non-swimmers go tubing with us often. For the first 3/4 of your trip, the river is less than a foot deep. We provide a life jacket that you must wear.
Can we pay cash upon arrival?
If you're in the area and haven't been able to book online, call 800 249-6284 to confirm we have a River Runner for you. The total will be $35 plus $4.55 HST
Tubing the full 8km should take 3 to 3 1/2 hours.
What happens when it rains?
We Tube rain or shine. Every tube comes with a rain poncho.
When do you open and close your season?
We generally open early May and close the last weekend in September.
Cool days a fleece sweater, nylon windbreaker; Warm days – sneakers or sport sandals and shorts.
When is the best time to go tubing?
Any time – the Grand River has excellent flows May to September. Weekdays are less crowded, as are the early weekends.
What is the water temperature?
During May & early June, the water is cool but not cold. Later in the summer, the river warms up, to roughly 20℃ (70℉).
Why don't you offer canoes and rafts?
We want your experience to be fun and a great value. The Grand often has shallow spots and rafts and canoes get stuck. River Runners were designed for shallow water.
Our launch area has a toilet. Along the river, there will not be any facilities but there are woods and meadows. When you finish the river portion of your day, there are good washrooms available.